Awards and News

2023 Top Workplaces, Pittsburgh Post-Gazette
Ranked No. 4 of 30, Best Places to Work, Mid-size Companies
2023 Top Workplaces, National
Ranked No. 20 of 91, Mid-size Companies
Mascaro welcomed 16 summer interns who will be working in the field, estimating, accounting, information technology, human resources, and the warehouse. The interns spent a week onboarding with each department head, participated in a discussion panel with past Mascaro interns, met with their coach/mentor, trained on new technology, and ended the week with a summer kick-off party that included a dunk tank for charity.
The Heinz ketchup bottle has returned to Acrisure Stadium! Yesterday morning, the team installed the 35-foot fiberglass bottle at the entrance of Gate C. The entire process took about 3-4 hours from delivery to installation.
UPMC Mercy Pavilion was officially opened in May with a ribbon cutting ceremony. The 410,000 square foot, 10-story buildingis the first of its kind in the nation offering life-changing care for people with specialized vision or rehabilitation needs.
A rainy day did not stop the students from the AGC chapter from visiting the University of Pittsburgh Campus Recreation and Wellness Center jobsite. The team discussed the construction plans of the building with the student before taking them on a tour of the jobsite.
Mascaro joined APEX Accelerators (formerly known as Procurement Technical Assistance Program) to provide a seminar to local, underserved businesses on best estimating practices to help guide them through government solicitations.
Almost 50 kids spent the day at Mascaro for Take Your Kid To Work Day participating in a full day of activities. The kids and their parents worked their way through fun stations on estimating, health & wellness, giving back, safety, building fundamentals, construction basics, and a visit to our warehouse.
Mascaro kicked off Safety Week 2023 with a week of events, information sessions, and training with each day focusing on different areas of safety.
On a rainy Friday night, more than 200 guests were greeted by feathered friends at the annual Gentlemen's Night Out at Acrisure Stadium. Guests enjoyed a night of dinner, cocktails, and premium cigars raising a record-breaking $206,000! The night benefits the National Aviary's work to save birds and protect their habitats.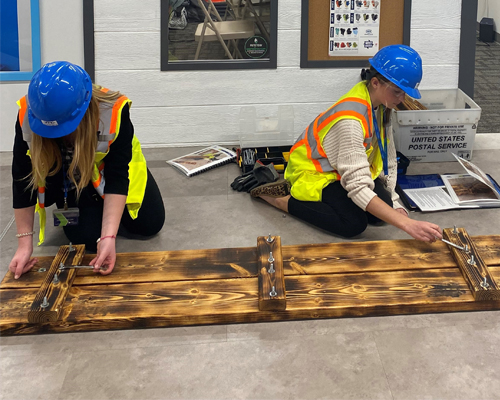 School is out and it's time for summer! That also means we've wrapped up another great season at JA BizTown! This year, approximately 49 schools visited the Mascaro storefront where the students assumed different roles in a construction firm like CEO, project accountant, superintendent, etc. for the day. Together with Mascaro volunteers, the students ran their construction jobsite for the day including building a wooden bench.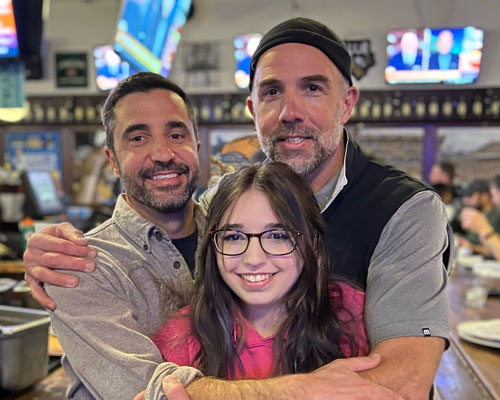 Thank you to all of those who attended, donated, and supported our guest bartender event for Cystic Fibrosis Foundation at McFadden's. With your help, we were able to raise over $31,000 for CFF.
Our bartenders for the night were Mascaro's own John Mascaro, Jr. and Nate Martin. This event started years ago in support of Nate and his daughter, Sofia, who has CF. The money raised helps to support her and kids like her who have CF.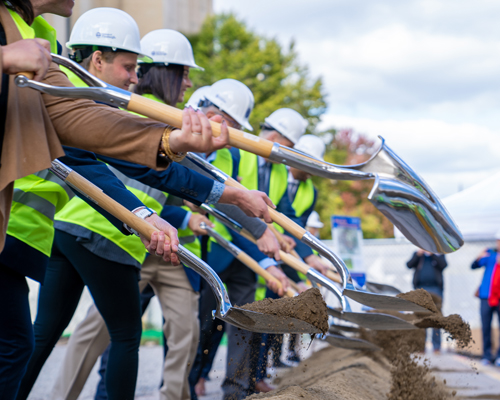 The University of Pittsburgh broke ground on the institution's Campus Recreation and Wellness Center. The groundbreaking was held to commemorate construction on the nine-story, 275,000 square foot space. Once completed, the Campus Recreation and Wellness Center will serve as a student activity hub and social engagement center containing dining, fitness spaces, multi-purpose rooms, a natatorium, gymnasiums, various offices, and an elevated walking/jogging track.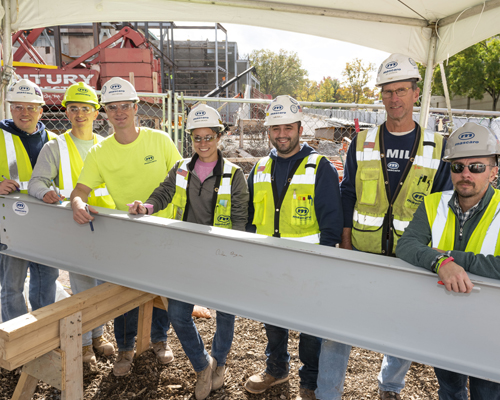 The last two structural beams were raised into place at the Highmark Center for Health, Wellness and Athletics at Carnegie Mellon University. Nearly 600 people signed the two beams during the topping off ceremony before they were raised into place in the central part of the building which is the highest point of the facility. The Highmark Center is scheduled to open in fall 2024.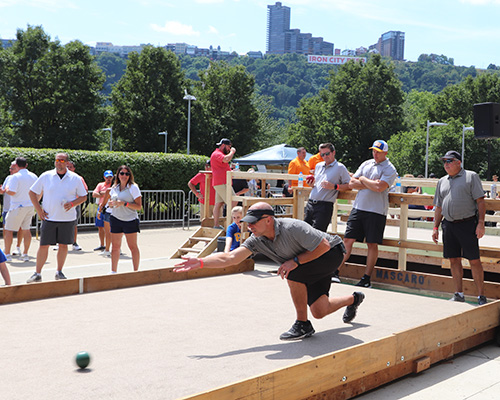 The 11th Annual Heinz History Center Bocce Tournament & Festival was held on Saturday, August 20. Chaired by Mascaro, this event invites sponsors to play in teams of four in a double elimination tournament. All proceeds from the event benefit the Italian American Program which is dedicated to preserving the history and culture of Italian Americans in Western Pennsylvania.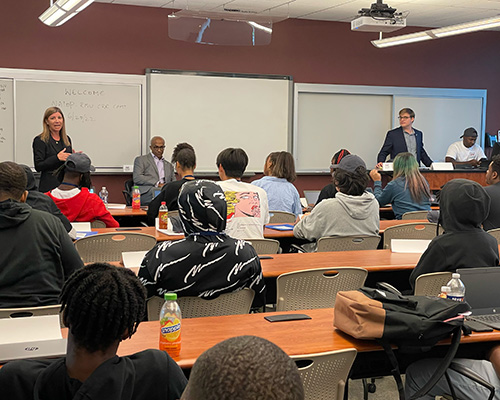 Mascaro's Alyssa Kunselman recently took part in an "Intro to Networking" panel at the NAIOP Pittsburgh – RMU Summer CRE Immersion Camp where students were encouraged to explore careers in the CRE industry.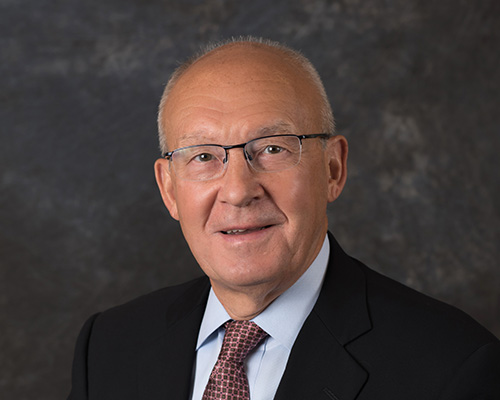 The Electrical League of Western Pennsylvania inducted Bill Rost, Mascaro Director of Electrical Services, into the 2021 Hall of Honor. Bill has nearly 50 years in the electrical industry and has been with Mascaro for the last 10 years.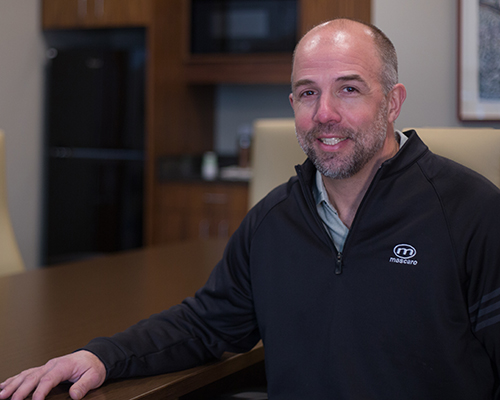 Mascaro President and CEO, John C. Mascaro, Jr., was named to City & State's inaugural Construction Power 75. The list identifies leading builders, contractors, public officials, construction managers, consultants, lawyers, and advocates who are building – and rebuilding – Pennsylvania.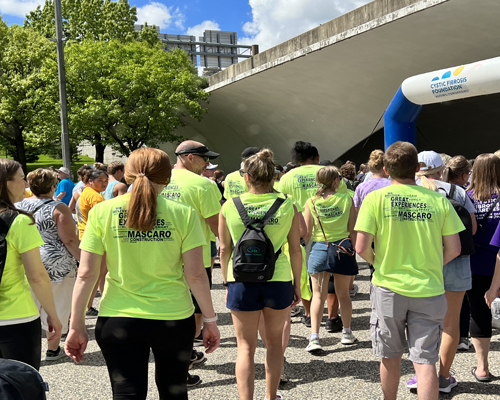 On May 14, a group of Mascaro employees and their families joined together at Point State Park to walk in the Cystic Fibrosis Foundation's, "Pittsburgh Great Strides" walk. The group of twenty not only walked to show their support, but they also raised funds in donation to the Cystic Fibrosis Foundation as they work to find a cure.
Mascaro was named a 2021 CF Corporate Champion due to their support of the cause.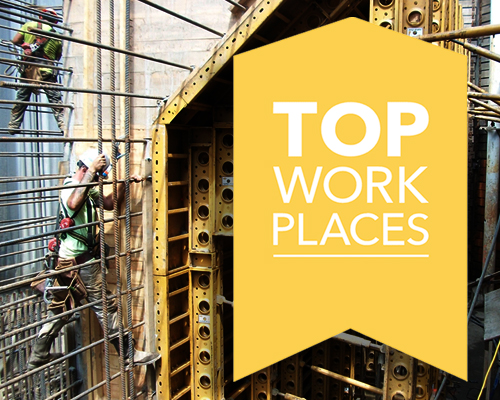 Mascaro was awarded national Top Workplace Cultural Excellence Awards in the following categories:
Innovation
Great Leadership
Worklife Flexibility
Purposes & Values
Compensation & Benefits
Click here to read about the awards and see the complete list of winners.