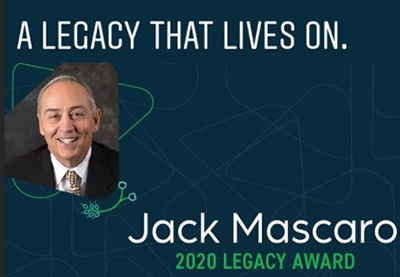 At the GBA's Emerald Evening, Jack was honored with the Legacy Award to acknowledge his life's work and his early adoption of sustainable building practices. We thank the Green Building Alliance for this recognition. They created a great tribute video in Jack's honor.
The Pittsburgh Post-Gazette holds the Top Workplaces program each year to see how employees perceive their jobs and the companies where they work. Thank you to all of our employees for not only participating in the survey, but for being dedicated to making Mascaro a great place to work by believing and practicing the Mascaro Advantage and continually delivering great experiences. This year, for the third year in a row, Mascaro has ranked in the top five.
John C. (Jack) Mascaro passed away on Sunday, July 19, 2020. Having started the company on April 12, 1988, his goal was to be a great builder that delivered extreme customer satisfaction, by doing things right, the first time. He always said, "Surround yourself with great people and they will do great things." His leadership, personality, and commitment to do the right thing is only paralleled to the love he had for his wife and family.
On behalf of the Mascaro Family, please join us in remembering our founder, Jack, and the impact he had on so many people's lives in our great city of Pittsburgh.
Mascaro would like to share with you some of our newsworthy happenings. Check back for updates to see what our company and people are accomplishing.